NEWS
Mila Kunis Tells Justin Timberlake "You Have a Fine A**"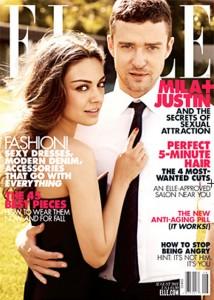 Mila Kunis and Justin Timberlake certainly seem comfortable with one another. The Friends With Benefits co-stars grace the cover of Elle's August issue and open up about all those nude scenes and whether or not their parents ever walked in on them having sex!
So what made Justin and Mila the most self-conscious while filming nude scenes?
"To Justin You've got a fine a**," Mila tells Justin in their Elle interview. "I was self-conscious about a lot of things. Show me one girl who isn't."
Article continues below advertisement
Justin chimes in: "I'll be honest and say I'm still trying to get into the editing room and cut down on my a** time. I'm like, 'Oh my God, my mom's gonna see that!' "
But it wouldn't be the first time Justin's mom saw something.
The hunky actor reveals he was "caught one time" having sex by his mom!
"My mom wasn't cool about it.," he explains. "I was too young to be in bed with a girl, so she was upset."
Mila muses that her parents think she's a virgin.
"I don't think my parents think I've ever had sex," she quips.
For more on their interview, visit Elle!