NEWS
Miley Cyrus: 'Pregnancy Is Impossible!'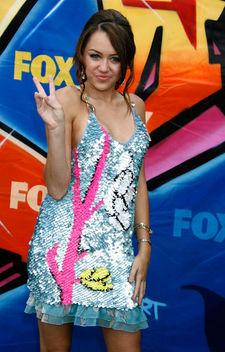 talked to E! News at the Hot Hollywood Party about the rumors that popped up all over the Internet last week that the 14-year-old was pregnant.
She said, "I think it's really stupid. I
think how they started was someone who was striving and wanting
attention, didn't get the attention, so they pulled it back on me."
"Now I get to stand my ground and say, hey, I don't
really believe in that and I think it's not cool," she added, "I think it's
Article continues below advertisement
better to wait for marriage and that's me here saying that. I'm not
doing anything like that and so pregnancy is impossible."
Miley isn't sure who started the rumor. "I have no idea. All I know is it started with the Internet."