NEWS
Miley: I Love Challenges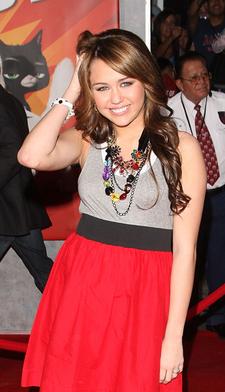 Although she's not quite 16, Hannah Montana star Miley Cyrus seems to be taking her mega stardom, and the media frenzy that accompanies it, like an adult.
"It's what I've grown up with – being around my father Billy Ray Cyrus who's gone through the same thing. But when you have it happen to yourself, it's finally like, 'Oh, my gosh. Now I really understand what this is business is all about,' " she tells Parade.com. "It's like the biggest blessing ever because it's so much fun. But it's not only about the perks, it's about the challenges. I just love the challenges."
Article continues below advertisement
CLICK HERE for OK!'s Mega Miley gallery!
In her new animated movie Bolt, Miley lends her voice as the owner of a dog who plays an action-hero on screen, and really believes he's got the same powers in real life. Not surprisingly, the tween phenom says she can relate to that experience.
"He believes that he really is the character he plays and I can understand how that can happen. I think it's really easy to fall into that trap in Hollywood – to believe that you're almost like an alter ego of your onscreen persona," she reveals. "For me, that would be like this very glam kind of rocker chick."
So does Miley want to spend her days as her onscreen character? Don't hold your breath!
"You have to learn how to turn that off when you go home and just sit around and hang out with your friends," she explains. "So I think it's a good way to show that you have to learn how to turn that off every once in a while and just go home and be a normal kid."