NEWS
Momma's Boys: Rob and Esther Kluge!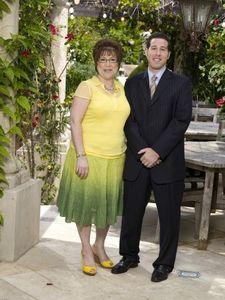 Rob and Esther Kluge made their TV debut last week as Rob looked for love – and mom looked closely over his shoulder – on the new reality show Momma's Boys.
That doesn't seem to be a problem for the mom and son duo from Marlboro, N.J., who told our outgoing intern, Elizabeth Olubodun, they've always been close when they stopped by the OK! office.
Why did you choose to do the show?
Rob: My mom said no matter how old I am I will always be her baby. That's the reason I did the show, to show the world how close I am with my mom and what a special person she is.
Article continues below advertisement
Esther: It gave me an opportunity to re-bond myself with my son. When the kids were little I gave them equal time. Didn't want one child to feel like they were first the child.
Was it overwhelming being surrounded by 32 beautiful girls?
Rob: It was very fun,and a great scenario for a guy. The ratio was great. If you go to a bar in New York City, the ratio is like five to one, but here it's like one to ten. It's the best-case scenario. My mom is like my wingman and I have 32 beautiful girls.
Esther, what was your relationship with the girls?
I really like the girls. They're really nice, sweet respectful girls.
Rob: Some of the girls still keep in touch to this day. They call my mom up when they have problems.
Esther: I was a lot of people's moms when I was away filming. I had 32 children.
Rob: She was like the surrogate mom. When there was a problem and people had hard feelings they would go to my mom. She would lend an ear and give them a shoulder to cry on.
Article continues below advertisement
How were things on set?
Rob: My mom did well, though she thought she was in her 20's for a couple weeks and adapted to her surroundings.
Esther: He made sure to say don't give her anymore of those drinks.
Rob: I don't like it when my mom drinks. I'm a little protective in that sense.
Esther: I'm not a big drinker.
Rob: My concern is that she's not a big drinker. So one or two drinks can change Esther from my mom to Esther who thinks she's 20. They're two different people.
Rob, does your ideal girl have to be a good cook?
Rob: The girl I wind up with has to know her way around the kitchen. My mom knows how to cook. I grew up on five-course meals, five days a week. Anytime I let my mom know I'm coming home I know there's a prepared meal for me.
Esther: She absolutely has to know how to cook.
Is fellow mom, Mrs. B, really as biased as she came across in the premiere?
Esther: She's a lovely woman. We got along very well. But different things did come out. Everyone's entitled to feel what he or she wants and that's why we live in a free country.
Article continues below advertisement
Rob: Mrs. B is a great lady and very loving. Her problem is she doesn't know how to talk to people. She wants her son to be with someone that's of a similar background, but there's a right way to say that and I think she just maybe said it improperly. I'm hoping over the course of the show everyone will realize Ms. B is a good person, not this bigot and racist she's being made out to be.
And the other mom?
Esther: The moms were terrific. I got along very well with both moms. We really interacted and did a lot of things together.
Do the guys get along?
Rob: Absolutely. We all get along. They're such great guys. We did spend a lot of time together and would we tell jokes and stuff. It was a great bonding experience. I compare it to a being in a dorm room or camping out.
How was it working with Ryan Seacrest?
Esther: He's so nice. The first time I met him he comes up to me and gives me this big hug and says, "Esther I l love you. You're just like my mom."
Catch Momma's Boys' first elimination round tonight at 9 p.m. on NBC.