NEWS
Morgan Spurlock Puts Pop Culture on Parade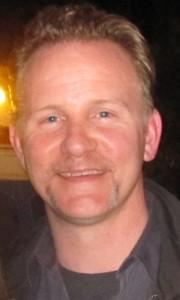 After a day at the Kentucky Derby, I join Morgan Spurlock and his dad Ben for dinner at Vincenzo's in Louisville. We cap off the meal with chocolate-coconut pie when the subject of Joey Fatone piques Morgan's interest. The former *NSYNCer performed Sweet Child O' Mine the previous night at the Barnstable Brown Gala, which was attended by fellow former boy bander Nick Lachey.
"I've never met Joey Fatone," Morgan tells me. "I'm fascinated by the post-boy bands. What do guys do when the boy band is over? What happens when the boy band is over? Like I saw Nick Lachey up on the big billboard today, here at the Derby, and he was up there with his wife-to-be, and you see these guys and think 'what do you do post-boy band? What's next?' Joey Fatone's been on television, he's had a lot of things going on - where are the rest of those guys? What's happening with all of them? Yeah, what do they do? Especially when you're part of an ensemble, and you're the backup of the ensemble. Then what do you do? That's a rough thing. That's a movie. That's a show right there. Somebody should make that TV show."
Article continues below advertisement
READ PART ONE: MORGAN SPURLOCK HORSES AROUND WITH ADVERTISING
Before that boy band movie gets made, Morgan has his sights on what's already been done. His next documentary is about Comic Con.
"I was a kid who grew up loving comics. Comics changed my life. They made me want to tell stories, they gave me an incredible amount of confidence just in terms of knowing this is a cool thing and people did this. I think it's a great place, and to be able to have a place where people can go celebrate this culture - celebrate movies and TV - is a fantastic thing. I love it. I will not miss another one. I drank the Kool-Aid."
After that, we'll find him with Will Arnett and Jason Bateman shooting a documentary about male grooming (which he's shooting now), and then it's time for an HBO drama series about Texas politics.
But for now, he's all about POM Wonderful Presents The Greatest Movie Ever Sold, and the future of advertising, which has already begun.
"Things are being meta-tagged online," he says. "This is the scary part of marketing and advertising – where things are going. Like, I did a search for a bed. I'm moving into a new apartment; I've gotta get a new bed, so I type in 'new bed' and here's the new bed. So I close the website out, go to another page, go to Facebook, go to whatever page. The page comes up, and all around that page are 'beds, bed linens, get a new bed, get it delivered today, need pillows? Just click here.' Here's all the s*** that I've already looked for, popping up on ads. Not just one page, but every page. Now all that meta-tagging is being shared throughout the network, to anywhere else you go, so literally now, anything they know I want, they can sell to me, as I'm looking for it. They already know I'm looking for it."
Article continues below advertisement
One example? Amazon.com.
"I go on Amazon, and those bastards are so smart, and good, because now they've got everything I've ever bought in the history of being on Amazon, for the last however years it's been. Fifteen years at this point, almost. So now they know every single thing I ever bought, when I bought it, why I bought it, how much I paid for it. So now you go on the website, and they've got all these algorithms that calculate 'there's a 22 percent chance he'll buy this, but a 75% chance he'll buy this, especially if you target him at this point in time, this time of night, when he's buying X, Y or Z, because most of his purchases take place between this time and this time,' so I go on the website and the page opens up saying 'hey, have you seen this?' and you go, 'no, add to cart, buy.' And you buy it, and you do, and you click on it because they've figured it all out. And you do – you buy it right there."
He sees technology continuing to evolve.
"What is very frightening about where things are going is you have that level of meta-tagging, with that level of knowledge of how you shop, and how you buy, and how you think, combined with where television is going, because now all of this is going to become one box, and there's already companies now that will superimpose – we're having this conversation at a table – and they'll superimpose a can of Coke on the table, in the shot. But now what will happen in the future is television goes to your house and my house, and because Time Warner knows what you buy and what I buy, that target of advertising in television is now going to be directed towards each of us, so now that the can goes on the table, but maybe you don't like Coke. Maybe you like Diet Coke, so now that can will be a Diet Coke on the table. Or it'll be a Pepsi for someone else, or a Mountain Dew for someone else. Then, when the guy goes to buy something online, and a car drives by, the car is the car that they know you like based on the other purchases you've made."
Article continues below advertisement
He adds, "So ultimately everything will start to become so targeted that your relationship as a consumer will completely change the way you watch television, and how you interact as a consumer. That's where things are going, and that's the scary part. What the movie does a great job of is pulling the blinders back on advertising and marketing. It makes you so aware for the first time – you'll never watch TV the same way again. You'll never look at a Hollywood movie the same way again. You won't walk outside and not notice things the same way again. Anybody who's seen the film – the minute they walked in and saw Kentucky Derby brought to you by Yum! brands today, would've been like 'holy s***, there it is at this event today.' Everything the movie talked about. For me, that level of awareness, understanding and insight is a great tool to have, especially in today's day and age. You need to have an awakening, and the movie does a great job at doing that."
The man who became famous after gaining and losing 30 lbs. for his documentary Super Size Me is fond of dessert as evidenced by the chocolate-coconut pie. What are his weight-loss tips?
"Eat less, and exercise more, and don't eat fast food," he says. "If you're gonna get a burger, there are so many better places to get a burger than any fast-food restaurant. Most places, especially if you go to local diners, mom and pop restaurants, places where they use fresh ingredients and make things by hand, it makes a big difference. They're using things that aren't meant to sit around on shelves for weeks and weeks and weeks – it's really made with things that will spoil in a day, that aren't meant to sit around for long periods of time."
Article continues below advertisement
He adds, "I think fresh food makes a big difference. You should eat the freshest food you can. You should try to eat less food out of boxes, less food off of shelves. When you go to a grocery store, the majority of the food you eat and you buy should be bought from the perimeter of the store. The middle of the grocery store is a black hole – you don't want to shop in the black hole. You want to buy from the outside."
We're having such fun that we decide to have drinks on Fourth Street in downtown Louisville, where he fetches me a hot tea after I mention I'm fading fast from lack of sleep. He returns about 10 minutes later, hot tea in hand, before we head into a club, where he lights up a cigarette, and mentions he prefers L.A. because he's healthier there than in his home base of NYC.
I ask him the biggest misconception about him.
Article continues below advertisement
"That I'm incredibly handsome," he laughs. "Not true at all." jokes
But aren't people scared of him?
He jokes, "I'm very intimidating, with this pale skin and mustache."
All kidding aside, he had a tough time getting advertisers to sign on for POM Wonderful Presents The Greatest Movie Ever Sold.
"They sure didn't want to talk to me on this movie. We'll see about the next one."
I have to know: Has he used The Original Mane 'n Tail?
"I'm using it now. We'll see what happens. I'm using it in hopes that it will revive some of the hairs that have quit on me, because I haven't seen any bald horses. You don't see any horses like those cats that are all skin."
He hopes it will make his thinning hair grow back.
"It's a matter of time. I'm going to have this big, flowing mane going down my back. I'll gladly stamp my foot anytime anybody asks."
We call it a night at 12:30 a.m., and the verdict is in: Morgan Spurlock is my new favorite. He is amazing.
Here's my pic with Morgan Spurlock that evening: