NEWS
Natalie Portman Would Rather Talk About Charity Than Fashion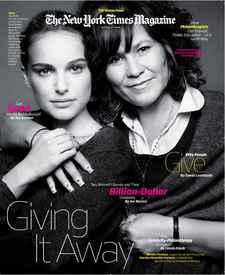 Like many good-hearted Hollywood celebrities, Natalie Portman has been able to use her fame to help bring attention to charities and causes that would otherwise have lingered in obscurity. In fact, the Other Boleyn Girl star has even spoken to Congress on behalf of the Foundation for International Community Assistance (FINCA).
And the 26-year-old actress sees a sad irony in the fact that a celebrities like herself have a better chance of being heard by the powers-that-be than the people who make a difference every day.
Article continues below advertisement
"That seems totally nuts to me," Natalie explains in an interview in the upcoming issue of The New York Times Magazine. "It's the way it works, I guess. I'm not particularly proud that in our country I can get a meeting with a representative more easily than the head of a nonprofit can.''
And while Natalie accepts the demands of being in the public eye, the actress wishes the interest was directed in a more positive way. "If they're going to follow me around and take pictures," she says. "I'd rather talk about FINCA than what dress I'm wearing or who I'm dating...''
Natalie, who has stopped doing commercials and has a designed a line of footwear for vegans, says she has a responsibility to do the right thing, explaining, ''I want to be comfortable and proud of everything I do.''
For the entire story, pick up the next Sunday's copy of The New York Times Magazine.