NEWS
Natasha Bedingfield's Unseen Oops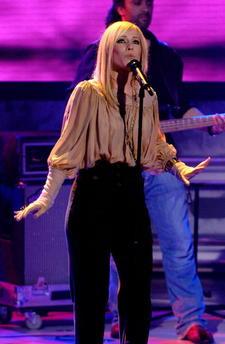 CLICK HERE for OK!'s complete Idol coverage.
Last week, Idol contestant Brooke White did an AI first when she forgot the lyrics to her Andrew Lloyd Weber song and started the tune again from the beginning. And though the emotional singer is now off the show after being voted off last night, she hopefully found some comfort in knowing that even pros — namely Natasha Bedingfield — make the same mistake.
Article continues below advertisement
While the millions who watched Wednesday's results show saw a flawless performance of "Pocketful of Sunshine" from the British singer, what the at-home viewers didn't see was that Natasha actually came up blank on the lyrics — to her own song!
"I'm so sorry. That's my career—over!" Natasha joked to the audience, before explaining that her goof happened because she had shortened the song a little to fit the time limit of the Idol broadcast.
Brooke, who was sitting on the couch watching the performance with the other contestants, made the crowd laugh by shouting to Natasha, "It's okay!"
After a second to regroup, Natasha and her band tried the song over again and — thanks to the magic of videotape — only the error-free version appeared on Idol.