NEWS
New Couple Alert: Keanu Reeves & Parker Posey?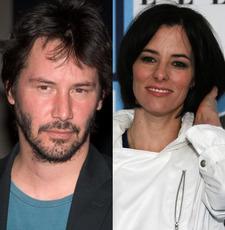 On Feb. 25, an eyewitness spotted Matrix hunk Keanu Reeves cozying up to the queen of indie films, Parker Posey, at swanky L.A. hotel the Chateau Marmont.
"They were sharing a seat and sitting very, very close," the source tells OK!. "It was probably the oddest couple I've ever seen."
It's hard not to see what 39-year-old Parker likes about the Speed star. But despite his obvious good looks, Keanu, 43, is a bit of a departure from the type of men Parker has been known to date. Her past boyfriends include rocker Ryan Adams and author Thomas Beller.
Article continues below advertisement
The last time we saw Keanu getting jiggy with anyone, it was with Sandra Bullock on the set of their movie, The Lake House. Perhaps Parker is taking the name of her new sitcom The Return of Jezebel James (premiering March 14 on Fox) to heart.
Hey, they say opposites attract!