NEWS
New Gossip Girl Couple?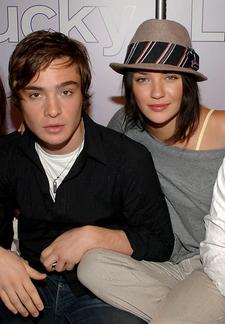 Look out, Blake Lively and Penn Badgley, there's a new Gossip Girl couple in town!
Ed Westwick, who plays scheming Chuck Bass on the show, and Jessica Szohr, who plays responsible pal Vanessa Abrams on the CW show, kissed and cuddled during a flight from NYC to Dallas on Nov. 30.
"They sat together and definitely looked like a couple," says a spy.
Another source tells W magazine that the pair were also affectionate at the Dallas airport, saying they kissed.
Article continues below advertisement
"Definitely on the lips," the source tells the mag. "Not a French kiss, but a smooch definitely. They were being very flirty when people were not paying attention… Ed was carrying a big Brooks Brothers bag, so I think he had probably spent his delay-time in the airport shopping at the Brooks Brothers. Jessica and Ed waited until the very end to board their flight. And then Jessica tried to go get a pizza to take on the plane but they decided they didn't have time."