NEWS
New Photos of Julia Roberts as Evil Queen & Lily Collins as Snow White Revealed!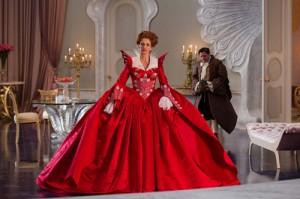 Relativity's version of Snow White still doesn't have a title, but it does have new photo stills. Julia Roberts makes her debut as the Evil Queen!
OK! NEWS: KRISTEN STEWART'S SNOW WHITE WILL BEAT LILY COLLIN'S SNOW WHITE TO THE BOX OFFICE
Yahoo! Movies released new stills of Tarsem Singh's as yet untitled film featuring Julia, Lily and Armie Hammer.
Julia makes her mark as the Evil Queen in a huge red dress with peacock feathers. But it looks like this Evil Queen keeps her evilness hidden on the inside as Julia looks so stunning in that dress!
Article continues below advertisement
"Roberts is so absolutely breathtaking and majestic that you can't take your eyes off of her, and her portrayal of the queen's evil nature is utterly mesmerizing that you almost feel a kind of pleasure and guilt for staring too long," Lily explained of her co-star.
Relativity's Snow White opens in theaters on March 16, 2012. Hopefully it will have a name by then!
Visit movies.yahoo.com to see more photos from Relativity's Snow White!