NEWS
NKOTB Cancel Aussie Tour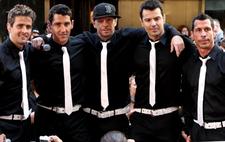 Bad news for fans of New Kids on the Block in Australia: the boys have canceled their tour Down Under, perhaps due to rumored poor ticket sales in the depressed global economy.
Donnie Wahlberg posted on the band's website blog that the group had "exhausted efforts" to get the tour going, but it was proving to be "too complex."
"We are, in fact, in the middle of a worldwide recession and we just cannot make it work," he says, although he didn't attribute the cancellation to poor ticket sales.
MORE ON:
New Kids on the Block
Article continues below advertisement
After breaking up in 1994, NKOTB reunited last year with the album, The Block, and toured the U.S. and Canada, promoting it to great success.
Donnie adds that the guys are "saddened" not to be going to Australia in August, since the country has "always, always, been one of our favorite places to travel to."
"We can only assure you that when the recession's stranglehold on the world's economies eases up a bit – we will find a way to make this work," he says.