NEWS
No Country, Sopranos Top SAGs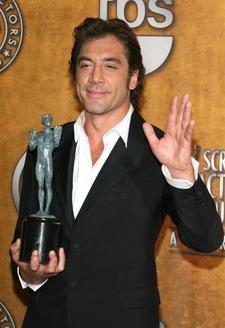 No Country for Old Men? How about No Room for Competition?
The drama picked up two statuettes at the Screen Actors Guild Awards on Sunday, Cast in a Motion Picture and Supporting Actor for Javier Bardem.
"This is Javier's 497th award," Josh Brolin quipped when accepting the cast trophy.
He's not far off — the Spanish actor has been sweeping the award circuit, as has their film, which is looking good for Oscar gold now.
Article continues below advertisement
Also looking good is Daniel Day-Lewis, who won Best Actor for There Will Be Blood. A near-lock for the Oscar now, the Brit dedicated his award to Heath Ledger.
"In Monster's Ball, that character that he created seemed to be almost like an unformed being retreating from themselves, retreating from his father, from his life, even retreating from us, and yet we wanted to follow him and yet was scared to follow him almost. It was unique," he said.
"And of course in Brokeback Mountain, he was unique and perfect," he continued. "That scene in the trailer at the end of the film is as moving as anything that I think I've ever seen. I'd like to dedicate this to Heath Ledger."
Heath was also honored in the In Memoriam segment, closing out the tribute, and by nominee Ryan Gosling and his sister Mandi, who wore black ribbons for the late actor.
Article continues below advertisement
Veterans also fared well at the ceremony — 66-year-old Julie Christie took home Best Actress for Away From Her while 83-year-old Ruby Dee was named Best Supporting Actress for her brief but powerful turn in American Gangster.
Over in the television categories, The Sopranos got a nice farewell (no, no Jersey Boys this time) and went 3-for-3 in its categories, snagging Cast in a Drama Series, Drama Actor for James Gandolfini and Drama Actress for Edie Falco.
"This is the last official act as Sopranos together," James said.
In the comedy races, 30 Rock almost sweeped — it won Actress and Actor for Tina Fey and Alec Baldwin (who repeated), but missed out on Cast to The Office, the defending champion.
Elsewhere in the broadcast, Kevin Kline and Queen Latifah, both no-shows, won for their TV movies, As You Like It and Life Support, respectively, while Charles Durning received the Life Achievement Award.
for OK!'s blow-by-blow of the night and for the full list of winners.
By Joyce Eng