NEWS
OJ Simpson Suspected in Vegas Break-in- UPDATE!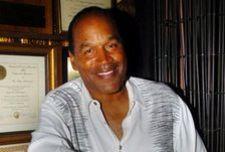 , former football star and newly anointed author (whose book If I Did It
is in stores today), was questioned late Thursday after a robbery
involving sports collectables was committed at a casino hotel in Las
Vegas.
According to CNN, Las Vegas Metropolitan Police Department Sgt. John
Loretto said there was an allegation, "involving Simpson as a suspect.
It is an alleged theft, and he is an alleged suspect."
Article continues below advertisement
He added, "When they talked to him, Simpson made the comment that be
believed the memorabilia was his. We're getting conflicting stories
from the two sides."
A report will be delivered to the prosecutor today and the district
attorney will then decide to press charges. No other details have been
announced.
Meanwhile, OK! was with Denise Brown earlier this morning
when news broke that O.J. Simpson was being questioned in connection
with an alleged theft at a Las Vegas Hotel. Brown's immediate reaction?
"Anything to get him behind bars."
Brown, 50, the sister of murder victim Nicole Brown Simpson, has been speaking out against the publishing O.J. Simpson's book If I Did It, and is still amazed that Simpson, 50, is a free man. "I can't believe he's still out there," she tells OK!.
Despite the trauma of going through Simpson's murder trial, which
ultimately resulted in an acquittal in 1995, Brown says she is glad
that the trial happened with cameras in the courtroom. "If there were
not cameras in that court room, would he have been found guilty?
Perhaps. But the topic of domestic violence would not have been made as
public. Domestic violence needed to be addressed, and because of the
cameras, it was," Brown tells OK!.