NEWS
OK! Blogs the MTV Movie Awards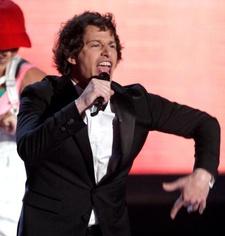 10:59 And the cast got cut off but that's okay because we're ending this show on time. Thanks for watching with us, it's time to go watch that one vampire movie with whatsisname in it and just see what all the fuss is about. Night!
10:58 And the best movie winner is TWILIGHT OMGOMG ROBERT PATTINSON WE LOVE YOU!!!!!!!!!!!! But seriously folks, was there ever any doubt?
10:57 Denzel Washington is on stage with his daughter. Get your hair out of your eyes girl! Best Movie is about to be announced. Feel the vampire love in the air.
Article continues below advertisement
10:54 Are we going to get out of here on time? And by here I mean am I going to be done sitting on my friend's couch because she has cable and I don't? Still in commercials with five minutes left to the show's planned run time.
10:52 Heath Ledger won Best Villain, which was announced in a commercial takeaway. Interesting.
10:50 Also, I must've missed it when someone explained why Jim is wearing this shapeless, dirty-looking coat. With this voiceover thing... does that mean this is rigged? Jim's voice just asked for someone to overturn Prop 8 so he could marry Robert Pattinson. Again, jokes going on for too long.
10:48 Best Comedic Performance is a good one to get, and it's a co-ed category. All these people were pretty funny but apparently the funniest was Jim Carrey. Is this 1997?
10:47 Kitties! Danny McBride and Will Ferrell are petting cats on stage. They're trying to be evil apparently. I think they're fake. The cats, not Danny and Will. Ah, euthanized instead of anaesthetized! Jokes, they got'em.
10:46 Speaking of Robert, scroll on down below for the trailer for New Moon in case you missed earlier. You can watch it over and over and over again. If you want.
Article continues below advertisement
10:40 Place your bets now for Best Movie. If Twilight doesn't win I will promise to not have heart palpitations upon hearing R-Patts' name for an entire week.
10:38 The Kings of Leon are about to rock it out brother-style on stage (because three of them are siblings, get it?).
10:37 So Kristen admits she's awkward after she chucks her award accidentally. Just like Bella, eh Twi fans?
10:35 Best Female Performance Award up now. Kristen Stewart will probably win this but who knows if the vampire magic will hold. And yep, she's got it. Maybe no one else should've even bothered to show up besides the cast of Twilight.
10:34 The movie parodies are really on top of their game this year, including the brief Star Trek/Clown College bit.
10:29 Doubt as a video game? Inspiring, Andy. Inspiring.
10:26 This Ben Stiller thing is going on for waaaaay too long. Kiefer Sutherland is funny but really, it's almost ten minutes. Snoresies.
10:22 Zac Efron needs a haircut.
10:19 Ben Stiller getting a Lifetime Achievement Award Generation Award, my bad because he's funny and he's been in funny movies where he milks cats and is a model and slaps a monkey. So he wins!
Article continues below advertisement
10:18 I'd be lying if I said I hadn't just gotten some goosebumps watching that. Taylor Lautner really got ripped and the wolf effects look better than they could've been. Mmm, handsome vampires.
**10:44 We now have the trailer for you to watch in case you missed:
THE TWILIGHT SAGA: NEW MOON trailer in HD
10:16 So now the New Moon clip is coming. But I won't freak out because that's embarrassing. Okay but really I can't wait. This better be good.
10:10 and 30 seconds Andy totally punked me there. I'll admit it.
10:10 OHYAY NEW MOON CLIP! What I mean I'm not at all excited. Yes I am.
10:06 Lil Wayne and Leighton Meester are introducing the award for Best Song From a Movie. Quite the odd couple these two. Lil's got some comedy chops. Aaaand the winner is... Miley Cyrus for Hannah Montana The Movie. She'd been asking her Twitter followers to vote for her so this isn't too surprising.
Article continues below advertisement
10:05 Apparently Amy Poehler just won the WTF Moment award but I'm still really confused as to what it is, exactly.
10:04 Now it's time for the WTF award. Eyerolling at this thing with Hayden P. and the British guy Big Packwho's name I missed. She's pretending she has a potty mouth but it's going on too long.
10:00 Never thought we'd see the day when Leann Rimes sang Samberg's "Jizzed in My Pants." Now Chris Isaak is singing some Samberg as well. Nice. Apparently saying dick is okay on TV as Forest Whitaker is currently singing that his is in a box.
9:57 Would you be surprised to hear that Robert Pattinson and Kristen Stewart just won Best Kiss? Nope. Didn't think so. But they did, of course. Twilight is unstoppable. K's wearing Converse, dig that. OMGOMGOMGMG are they goin to kiss again? A million teenage hearts just stopped beating. And... they didn't. Sigh.
9:55 MTV censors need to get a little quicker on the draw so "Suck my golden d--k" doesn't make it through live on the air. Best Kiss award next.
Article continues below advertisement
9:49 Oooooh that looks good. Pretty excited, it seems like it's going to be a great movie.
9:47 Harry Potter preview! Oh sweetness.
9:45 Zac Efron won Best Male Performance, everyone is a little bit confused about what went down with Bruno flying in and landing on people with his butt, but Zac is somehow recovering. Not sure who else was nominated but he seems pleased.
9:44 It's Bruno time, and he's flying in with angel wings from above. And there's his butt. Wow. And falling and landing in Eminem's laugh, back end up. His bodyguards are freaking out and so is he. Didn't Triump the Comic Insult dog give him the same treatment a few years ago? Em's leaving! Oh wow. He's not happy, to say the least.
9:37 Of COURSE our boy Robert won. He's just way too handsome and perfect not to, right? Obviously I'm right. Did I mention he's handsome? Tasty.
9:36 Now we've got Jonah Hill and Vanessa Hudgens to introduce the award for Breakthrough Male. Jonah just mentioned pubic hair. Yikes.
9:34 Andy's back with a parody song of guys in movies who walk away from explosions without looking back, joined by Will Ferrell. Good stuff, guys.
Article continues below advertisement
9:28 Em looks like he's back in shape and enjoying being on stage. Good for him.
9:23 Time for a performance from Eminem. Haven't seen him on stage for awhile so this could be interesting. He's singing "We Made You." Catchy tune.
9:22 Aaaaand the winner is... Cam Gigandet and Robert Pattinson for Twilight. Shia couldn't say Cam's name. Everyone love Robert, who looks delicious. Everyone is freaking out for him. I bet he'll never get used to the screaming.
9:20 More Shia, thank youuuuu. So very handsome and stylish. He's going to present Best Fight. He seems pretty pumped to be up there.
9:12 Not really loving Megan Fox's hair tonight. She kind of scares me too, not gonna lie. Looks like we're about to see the sneak peek of Transformers: Revenge of the Fallen. Love that Shia LaBeouf.
9:10 Breakthrough Female winner is... Ashley Tisdale for High School Musical 3. And she was just on our cover -- we know how to pick'em!
Article continues below advertisement
9:08 Andy's doing a pretty good job bringing the giggles, gotta say. I could just watch him all night. But here comes Chris Pine, so that's good looking news.
9:06 In love with keyboard cat.
9:05 Ah yes, Andy, thanks for the first fart joke of the night. Might as well get it out now.
9:03 Aziz Ansari, awesome. Followed by Justin Timberlake... good start MTV, gotta give it to you.
9:02 Andy Samberg is already hilarious, this is great. Love the movie references already. And of COURSE he'd be in love with Robert Pattinson.
8:59 Welcome to OK!'s liveblog of the 2009 MTV Movie Awards! Is it just us or is the sound messed up? Hope this changes so we don't miss the New Moon trailer.
By Mary Beth Quirk