NEWS
OK! Exclusive: Brian Littrell's Family Nightmare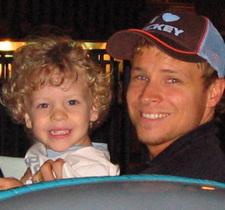 Former Backstreet Boy Brian Littrell and his wife, Leighanne, were confronted with the horror of an unknown disease, as their 6-year-old son, Baylee, broke out in a full-body rash in early December, with blisters in his throat and a 103-degree fever.
After numerous tests and three misdiagnoses, the couple asked doctors to perform an echocardiogram, which showed damage to Baylee's coronary arteries. It was determined that Baylee suffered from atypical Kawasaki disease. He's been released from Atlanta's Scottish Rite Children's Hospital after receiving treatment, and now Brian and Leighanne are reaching out to other parents. "If you feel like something is wrong, follow our instinct," says Leighanne, who talks to OK! about the fight for her son's life.
Article continues below advertisement
CLICK HERE to see exclusive family photos of the Littrells!
OK!: How is Baylee doing, now that he's home?
Good. He is running around in his Batman costume, feeling so much better, and his attitude is fantastic.
OK!!: When did he first get sick?
Around his birthday, Nov. 26. He felt nauseous and had diarrhea. His grandpa also noticed his lymph nodes were a little swollen. Baylee wasn't running a fever, so we let him have his party. We went to the doctor, who diagnosed him with strep throat and put him on amoxicillin.
OK!: But the symptoms didn't go away?
We spent an early Christmas with Brian's family in Kentucky. On the way back home, Baylee had a fever of 103. We took him to the doctor, and he had blisters in his throat. He was diagnosed with hand, foot and mouth disease, a viral illness that causes blisters. But he developed a rash on his body, and the doctors then thought he had erythema multiforme, a reaction to the amoxicillin. We got home, and the rash looked like a chemical burn; his eyes were swollen shut. We went straight to the emergency room.
Article continues below advertisement
OK!: What were you thinking at this point?
Well, you're frustrated. There is no way you can believe a doctor who is telling you to go home and this will go away on its own. But Baylee had said he had been feeling these little heart murmurs – he calls them "heart sparks." So Brian and I wanted him to have an echocardiogram. The doctors rolled their eyes, like, "They're just being paranoid parents." But the results came back and showed damage to his coronary arteries, and inflammation. He was finally diagnosed with atypical Kawasaki disease.
OK!: What's next for Baylee?
We have to monitor his heart for six to eight weeks, until we know the IVIG has worked: It's the only shot to cure Kawasaki. The other day, Baylee said, "I just want to be normal, Mommy." Right now, he can't do a lot of cardiovascular activity, but he can practice his karate. He also has to stay away from people who are sick because his immune system is weak.
OK!: What advice would you give other parents?
Doctors don't know everything. They would never run an echocardiogram unless we insisted. We'd like to set up a fund for children who need extra medical testing, when insurance won't cover it. I hope our experience can help another family.