NEWS
OK! Exclusive: Britney's Sexy Secret Plan Revealed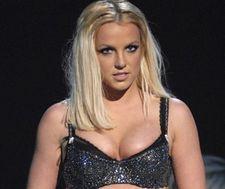 Unless you've been vacationing under a particularly large bit of stone this past week, you've seen, read about and likely expressed your opinion about Britney Spears' disastrous performance at last Sunday's Video Music Awards. Even if you've managed to avoid this particular bit of news, you're certainly aware of the beleaguered pop star's year of divorce, partying, rehab, head-shaving, more rehab and custody battles. Of course, the one person who knows best about all the negative news is Britney herself.
Article continues below advertisement
So what is this former champion of the charts doing to lift herself out of her current abyss? "Brit's in damage control mode now. She's been talking to the folks at Maxim about doing a photo shoot," a friend of the pop princess tells OK! exclusively, referring to the popular men's magazine that has been a career-boosting showcase for celebrities like Jessica Alba and Eva Longoria. "She wants to be on the cover as quickly as they can shoot her."
Britney's decision to go for men's magazine cover stardom is based solely on her past success with selling herself as an object of desire. "It's worked for her since the video for 'Baby One More Time,' " an industry insider explains to OK!. "The last thing she did that really reminded America of her allure was her sexy Rolling Stone cover from October 2003, so the idea of another high-profile cover is completely logical."
Article continues below advertisement
And considering that Lindsay Lohan, the only celeb in Brit's age range who could argue for having had a worse 2007, was the unlikely choice to top Maxim's Hot 100 list this year (Britney didn't make the cut), she sees the magazine as being a welcoming place for her right now. "She sits around reading Maxim all the time," the friend reveals to OK!.
Of course, if Maxim does decide to go ahead with the shoot, OK! would like to remind them of the complete meltdowns she experienced at the planned fashion shoot for the pages of our magazine.
Let's just say... keep her dog away from any pricey designer clothes.