NEWS
OK! EXCLUSIVE: Kris Jenner on Scott Disick — He's Done a 180!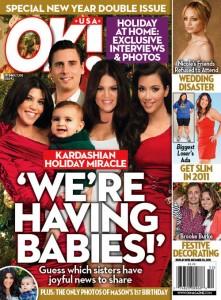 Christmas is extra special for the Kardashians this year with new addition to the family, Mason Dash Disick! Mason's parents, Kourtney Kardashian and Scott Disick, have grown a lot in their relationship since the birth of their son, and matriarch Kris Kardashian shares with OK! how proud she is of Scott's transformation.
"I think Scott has definitely done a 180," Kris tells OK! in the current issue on sale now. "He's matured over the last year in the way he's treated Kourtney and — he's the best dad."
Article continues below advertisement
Over the past year, the family's relationship with Scott has been complicated, and viewers of the hit reality show Keeping Up With the Kardashians have seen his outbursts.
Kourtney left him for a few weeks in the summer after a violent fight in which a liquored-up Scott smashed bottles, punched walls and wound up in a hospital emergency room.
OK! IN THIS ISSUE: KARDASHIANS SHARE THEIR CHRISTMAS TRADITION
But a stint in rehab seems to have curbed his bad behavior.
"Nobody is more thrilled and impressed than I am," Kris continues. "Scott did it on his own. He took responsibility for whatever was going on with him and just decided to get his act together. And it's been amazing."
Even Scott admits fatherhood has helped transform him from naughty to nice.
"A million people can tell you this, but until you have your own kids and experience it for yourself, then you can't really understand," Scott tells OK!, adding that one of his great joys is watching Mason pass milestones. "He's walking around like a real person, with a real personality."