NEWS
OK! Exclusive: Lisa Ling Talks Her Newest Project and the Most Surprising Thing about Motherhood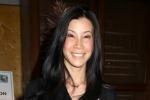 Article continues below advertisement
Lisa Ling: Dove has an incredible campaign to try to convey to young girls that they can feel unstoppable. According to statistics, 6 out of 10 girls stop doing the things they love doing the most, their favorite activity, because of what they look like. I've always been a fierce advocate for girls, but now as a mother to a daughter I'm even more serious about wanting girls to feel confident. If you go to Dove.com, you can upload images or videos of girls who are doing their favorite things. You can also download tools to use if you want to help the girls in your life to have more self-esteem.
OK!: Did you experience anything like that when you were growing up?
LL: When I started working in television I was really young, like 16 years old. There were four hosts on this show, two boys and two girls, and the other girl was always considered the pretty one. I was considered kind of the "funky" one. I heard it so frequently that it was always this source of insecurity for me, because I wasn't the pretty one and she was much more well-regarded
Article continues below advertisement
OK!: Your daughter Jett is two months old now. What is the most surprising thing about motherhood so far?
LL: That I actually really like it! I never had that biological need to have a child— for some girls, that's what they dream of. When my husband and I got married, we decided we wanted to have a child together, but yet I was still really afraid of it because I had been a career woman. But I actually really like motherhood. When my baby looks at me and smiles, it's just beautiful.
OK!: Has your sister's baby met your baby yet?
LL: Oh yeah, like the first day she was born. It's so funny because my sister's daughter's name is Li, so we have Jett and Li now. Li has always been our little baby, and now she is kind of the big sister and she's assumed that role really well—no jealously, just really loving and sweet. Li's always like, "Come on, baby Jett, chase me!" She can't move yet! It's hilarious.
Article continues below advertisement
OK!: Is there another celebrity family you would like to have a playmates with and why?
LL: I certainly wouldn't mind my baby hanging out with Brangelina's kids. I've have a chance to spend some time with Angie, and she's just such a smart, passionate person. I'm assuming, given the fact that she travels so much with her kids, and they're from so many different parts of the world, that they're little global citizens. So I'd love for my daughter to be able to hang out with other global citizens, or aspire to be global citizens like they are.
Do you know a young girl who might benefit from the Dove project? Have you followed Lisa's career so far? Do you think Angelina's kids would be fun playmates? Tell us in the comments below or tweet us @OKMagazine.