NEWS
OK! Exclusive: Matt Lauer Wants a Rematch with Tom Cruise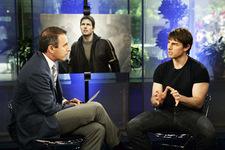 In 2005, in one of TV's most infamous showdowns, Today Show host Matt Lauer unexpectedly squared off against Tom Cruise over the topic of Scientology and pyschiatric drugs.
Now, three years later, Matt tells OK! in an exclusive interview that he wants to get Tom back on the show to open up the discussion again.
"Tom is in talks with us right now to do another interview," explains Matt, who was labeled "glib" by the Mission: Impossible star for defending actress Brooke Shields' decision to take medication for post-partum depression. "Both of us realize we need to go back there and kind of just show that it's an episode from the past and move forward."
Article continues below advertisement
When asked about the possibility of wife Katie Holmes coming along for a chat, Matt said, "Perhaps, whatever the situation dictates."
The complete interview with Matt can be read in next week's issue of OK! — on sale everywhere Thursday.
Meanwhile, on Oprah today, Tom spoke candidly about the experience. "What I regret is even discussing Brooke in any way," Tom said. "I apologized to her. As a result, we're actually even closer friends. I went back and I looked at the Matt Lauer interview and I thought, 'Okay, I remember at that time, I was feeling pressed in the interview with Matt Lauer.' I mean, for me, my issue was really about child drugging. It's not like it is today. People kind of really openly are talking about this."
Well, that doesn't seem so glib does it?