NEWS
OK! Interview: Melora Hardin Dresses Up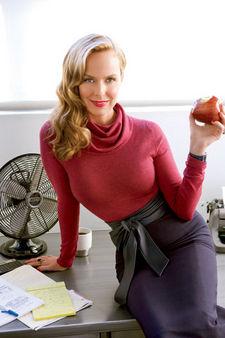 Need a sexier office look? Take some pointers from The
Office's Melora Hardin. The actress models some chic workwear in the latest
issue of OK! and talks about her diverse personal style.
"Sometimes I like to be classic and other times I like to be wild and edgy,"
she tells OK!. "I'm not the kind of person you'll see in black every day,
that's for sure. I wear clothes that excite me."
What excites her the most?
Article continues below advertisement
Dresses.
A self-described "dress fiend," Melora says "there's
something really sexy about having that breeze around your legs and not feeling
constricted."
Not everyone feels the same way about her dress choices
though. The 40-year-old's biggest fashion mistake was one of her biggest risks —
a colorful and short frock by Tibi. It earned her a Worst Dressed dishonor,
which came as a surprise.
"I knew it was risky when I bought it, but it made me feel
happy. I have to tell you, I got so many compliments that day; the
photographers went wild for the dress," she says.
For more on Melora, check out her gallery and pick up the latest issue of OK! on newsstands now.