NEWS
Oprah Winfrey Meets Neil Patrick Harris & David Burtka's Twins, Harper & Gideon!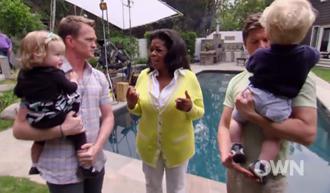 Neil Patrick Harris and his fiancé David Burtka have always kept their personal life private, but the couple sat down for an exclusive interview with Oprah Winfrey on Oprah's Next Chapter to talk about their relationship, their twins Harper and Gideon and their struggles with parenthood.
In a clip from the interview, Oprah meets the 16-month-old twins, who are two of the cutest kids we've ever laid eyes on!
Article continues below advertisement
OK! GALLERY: NEIL PATRICK HARRIS & DAVID BURTKA SUPPORT CALVIN KLEIN'S MARRIAGE EQUALITY CAMPAIGN
The kids come out escorcted by their nanny, and Neil and David beam with excitement. Apparently their little ones are taking swim lessons this summer and enjoy being in the water. (And we would to if our pool looked like the Burtka-Harris'!)
"They're super healthy and they're happy," Neil tells Oprah, who can't seem to get enough of Harper and Gideon, who is "the shy one" according to David. (David goes by "Daddy" while Neil is "Papa").
"Look at those blue, blue, blue eyes," Oprah gushes as she greets Gideon.
The Burtka-Harris brood is truly a "modern family" as Oprah puts it, using science to bring their babies into the world.
"We knew the surrogate... the egg donor is anonymous," Neil explains to Oprah.
"But we saw video of her and read extensive medical history... on both of them," David adds.
In their situation, David says the surrogate "was more like the oven" while the egg donor is technically the biological mother.