NEWS
Paul Rudd Dishes Thoughts on Costars Dating Each Other at 'Our Idiot Brother' Premiere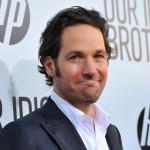 Last night at the premiere of Our Idiot Brother, the stars shone brightly, including comedian Paul Rudd. Although he was celebrating his new film where his character barges into the lives of his three sisters, his next film, Wanderlust, co-stars lovebirds Jennifer Aniston and Justin Theroux.
OK! VIDEO: WATCH PAUL RUDD IN NEW TRAILER FOR OUR IDIOT BROTHER
Even though he's happily married, what are his overall thoughts about costars dating each other? Paul told OK!,  "Dating a costar - I've never done it.  I am the wrong guy to ask for that.  I've been with my wife as long as I've been acting! So I don't know."
Article continues below advertisement
Switching gears, how's this for the Kevin Bacon game? Paul also costarred with Jennifer in Friends who costarred with Courteney Cox. Courteney currently appears in Cougar Town which also costars Busy Phillips! After filming the first episode of the season Busy told reporters last night, "I zip lined off a roof today. Can you see the bruises? I have them on both sides."
Now that Courteney's directing, Busy exclaimed, "She's going to make an amazing director!" Perhaps she's channeling a little bit of her neat freak Friends character, Monica? Busy added, "She's so organized and she's always got her binders and her basket with all of her little notes in it."
So, does Courteney have a little bit of a directorzilla in her, perhaps? She joked, "Courteney's trailer couldn't get any bigger!" As for whether or not Courteney will ask Busy to do any crazy stunts, the actress added, "Well she hasn't started yet. I'm looking forward to seeing how hard ass she can be."
Reporting by Gena Oppenheim