NEWS
Paula Abdul Dishes About New Dance Show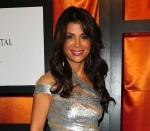 And 5-6-7-8...dance! Former American Idol judge, Paula Abdul, is gearing up for her upcoming show as head honcho at the judges' table. In Live to Dance, dance contestants will compete for a $500,000 prize.
OK! NEWS: STEVEN TYLER, JENNIFER LOPEZ HELP USHER IN MORE IDOL CHANGES
In a new promo for the show Paula tells contestants, "I want different. I want new. I want amazing people that live in their unique ability." Whether they perform solo or in a group, contestants must listen to this judge's advice if they expect to advance in the competition. In addition to Paula's role as the contestants' mentor and lead judge, Travis Payne and Kimberly Wyatt will round out the table as additional judges. As for the host, former Australia Idol host, Andrew Gunsberg, will be the Ryan Seacrest of this new show.
Article continues below advertisement
OK! NEWS: FIRST PICTURE OF NEW IDOL JUDGES TABLE
Live to Dance will be Paula's re-emergence on TV after she left American Idol after eight seasons. As Paula returns to TV, viewers can expect to see a wide range of ages (unlike Idol there won't be age limits for contestants) and a mix of dance styles and routines. Paula told TV Guide, "It's about celebrating acts that move forward as opposed to who's going home. We're the only show that has all ages - you can be anywhere from six to 106. You could be a soloist, duo or group of any size. There are some acts that came in with 50 people!"
Live to Dance will premiere on Tuesday, Jan. 4 at 8 p.m. ET on CBS. Starting on Jan. 19 it will air at 8 p.m. ET in the same time slot as American Idol on Fox.
By Vicki Salemi