NEWS
Paula Abdul: "I Have the Hardest Job in the World!"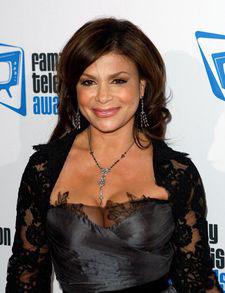 On tomorrow's Morning Show With Mike and Juliet the sometimes scatter-brained American Idol judge Paul Abdul stops by and makes her prediction about the top 4. She said, "I'll tell you who I think are going to be the top 4: Carly, David Archuleta, David Cook and Michael."
Also, she addresses the fact that she gets very emotional at times, and sometimes even cries on the show. "Uh, emotions happen to be considered bank on this show," she said.
Article continues below advertisement
"I gotta tell you. I have not bawled my eyes out but I kind of lost it when Asia Eperson was auditioning," she continued, "She had just lost her father. That really got to me."
And she admits that she tries to be supportive of the contestants, when Simon maybe, well, isn't always that way. "It's harder this year. I'm glad that you're recognizing that. Simon is in my ear before and during the performances trying to get me to say the most ridiculous things. I've had to learn how to somehow split my brain in half and cancel the interference that has an accent."
She added, "I have the hardest job. I try to give them something they can hold on to. leave them with grace and dignity.and back it up with constructive criticism."
For more with Paula, check out The Morning Show With Mike and Juliet tomorrow.