NEWS
Peter Cook's Mistress' Music Career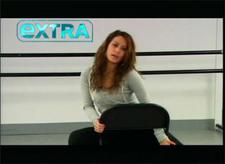 The divorce trial may be over, but Diana Bianchi's 15 minutes of fame aren't!
The 21-year-old mistress who broke up the union between Christie Brinkley and husband Peter Cook is pursuing a music career and footage of the wannabe pop star working on some songs in the studio will premiere on Extra on Thursday.
A sample lyric from her tune: " "I once was hurt before. I've got to move on. I've got to be strong."
Article continues below advertisement
Songwriter Tasha Covington, one of the forces behind Diana's career, reveals the brunette is currently unsigned, but is fielding a plethora of offers after the scandal.
"She actually had a couple of deals on the table," Tasha says. "Major labels wanted her."
Tune into Extra tomorrow to see the footage for yourself!