NEWS
PHOTOS: Drew and Justin Enjoy a Little Smooch with Their Lunch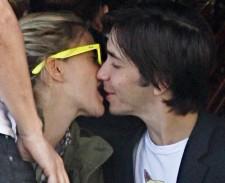 Awwww... Isn't it so cute that Drew Barrymore and Justin Long are no longer trying to convince everyone they're "just good friends"? Only a couple days after the on-off-on couple were snapped holding hands at the grocery store, they were caught in mid lip-lock over lunch in West Hollywood. The pair had just finished dining with Justin's brother Christian and their friend, actor Jonah Hill, when they went in for the kiss. Wonder if he'll be her date to the Golden Globes?
Article continues below advertisement
EXCLUSIVELY IN THE PAGES OF OK! — ALL THE DETAILS ON HOW NEW MOMS KENDRA AND KOURTNEY ARE DEALING WITH MOTHERHOOD
Also in this issue:
• Everything you need to know about Carrie Underwood's wedding!
• The feud between Jennifer Aniston and Angelina Jolie is just getting worse.
• Tag along with Jersey Shore's Ronnie and Sammi on their romantic night out in NYC!
...and all the latest news, gossip and photos!