NEWS
Police Plan to Subpoena Teen Mom's Amber Portwood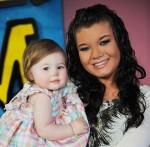 The drama is only increasing for Teen Mom's Amber Portwood. She may be trying to move forward from the MTV episode that showed her allegedly hitting Leah's father Gary Shirley, but the police are moving forward with their case against her as well.
OK! COVER STORY: TEEN MOM AMBER STEALS LEAH BACK!
According to E! News, police plan to subpoena MTV for the unedited footage from Teen Mom in which Amber is seen fighting with Gary.
Article continues below advertisement
"We're looking for any behavior that would be considered to be unlawful where the law is broken," Indiana's Anderson Police Department spokesman Mitch Carroll explained.
Carroll also said the subpoena to MTV is currently being drafted.
OK! VIDEO: TEEN MOMS LOOK TOWARD THE FUTURE
"From what we have seen so far from the allegations, and we have to bear in mind that we're dealing with edited footage, it could be something as simple as misdemeanor domestic violence battery — a Class A misdemeanor," he added. "Or if it is in fact found to have occurred in the presence of a child less than 14 years of age it could be upgraded to a Class D felony."