NEWS
Post-Surgery Update on Julianne Hough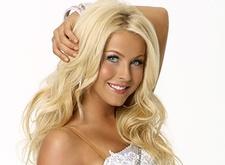 Less than a week after Dancing With the Stars pro dancer Julianne Hough announced she'd be taking her leave of the show to have surgery on her appendix, the beautiful blonde's brother — and fellow DWTS hoofer — Derek Hough gave OK! an update on his sister's condition.
"She was in a lot of pain for a couple of days afterwards," Derek explained to OK! following Monday night's performance show, where he and celebrity partner Brooke Burke scored a perfect 30 for their dance. "But she's a fighter; she'll get through."
Article continues below advertisement
As for Julianne's optimistic statements that she'd be back on the show after only a couple of weeks off her feet, Derek is more cautious. "I don't think she'll be back to dance next week," he admitted, adding, "I'm going to make her stay in bed!"
And it looks like things are tough all over for the Hough family. Derek revealed to OK! that the siblings' father Bruce, who lives in Utah, broke his collar bone in half playing lacrosse.
"In humor, after he did it — with his bone is popping out of his shoulder — he said, 'Yeah, I thought I was young and I forgot I'm 54 years old,'" Derek told OK!. "I love him. This happened a day before Julianne went into surgery. They actually went into surgery on the same day."
By Carole Glines