NEWS
Rachael Ray Takes Chicago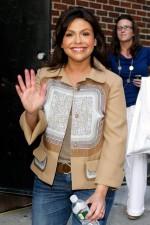 Rachael Ray blew into the Windy City to film "Rachael's Big Block Party," which airs today on The Rachael Ray Show.
During the healthy street fair, which boasts guests including Jenny McCarthy, Jillian Michaels, Rocco DiSpirito, WBNA stars and Chicago Bears players, Rachael got her groove on dancing to the sweet sounds of Kool and the Gang.
"How can you go to a Kool and the Gang show and not dance?" she asks me. "I was sweatin' bullets. I was dancing my tuchus off. It was great."
Article continues below advertisement
It wasn't all work and no play for the daytime diva, who treated attendees to the Wrigley Field-area fair to turkey sliders with Asian barbecue sauce and mango salsa; fruit skewers and cucumber-flavored water.
"I took our crew and producers to Rick Bayless's restaurant Topolobampo," the 41-year-old host, who married John Cusimano in 2005, says. "I had one of the greatest meals of my life. I always do. I love his food a lot. That's what I look forward to most – seeing him, and just relaxing and not having to cook dinner for a couple nights." She laughs.
Rachael's tastes aren't only for those with a posh palette.
"I really appreciate a good Chicago hot dog," she admits. "I'm a person who puts more stuff on the hot dog so that it's bigger than the hot dog itself."
What does she love most about Chicago?
"I love everything about Chicago. I love the whole look of the city itself – the way the city is laid out. It has extra-wide boulevards and the waterways. It looks like a European city. I love the waterfront along the lake there. It's amazing. It makes you want to go outside and jog and eat healthy. I love the music scene. I think it's got the greatest collection of museums. It's just a wonderful time. I love the Field Museum. There isn't anything I don't like about Chicago. Great shopping."
Article continues below advertisement
She continues, "I suppose I probably wouldn't care for the winters, but I come from upstate New York, so that wouldn't bother me either, I don't think." laughs
How does Chicago compare to Rachael's hometown of NYC?
"I don't think they're that much different at all," she says. "They may be a little more into jogging, but I don't live near Central Park, so I forgot we have joggers at Central Park. But everybody loves food and music, and it's got a big city feel to it. You can get around really easily. The L is very similar to our subway system. Chicago's a lot like New York, actually. L.A. is very different because you have to drive everywhere, but I feel very at home in Chicago. It has a fantastic public transportation system, people are really into food and there's great shopping. It's a similar environment. I live in New York, but I feel very comfortable in Chicago."
Rachael has but one regret about her time in Chicago.
"I didn't see Oprah because I'm sure she's busy working on her new season, but I wish we had time to see her. Hopefully I'll see her next trip."
"Rachael's Big Block Party" airs on The Rachael Ray Show today. And, pick up the OK! on newsstands now for behind-the-scenes photos from the show. The cover line is "Rob Risks It All For Kristen."