NEWS
Is 'Real Housewives' Drama Created?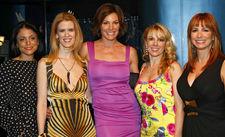 The Real Housewives of New York City are living life in the fast lane now that their reality show is a bonafide Bravo hit. But is some of the drama fictional?
Yes, according to Ramona Singer, who famously snubbed co-star Jill Zarin when she had a dinner party.
"Actually, it was a setup," she says. "Am I allowed to say that? I was late signing up because I wasn't sure I wanted to do the show. I was sick, so I didn't film. Everybody else had already filmed on their own. This was my first time to film alone with just six girls. I went on my own time. I said 'Okay, well I'm not going to invite Jill.' They said, 'Why don't you invite LuAnn?' I said, 'I'm not that friendly with LuAnn.' But they go, 'We really want you to invite her.' I was like, 'I don't really want to invite her because I'm not that friendly with her.' They said, 'No, but we really want you to invite her.' So I said 'Okay.' "
Article continues below advertisement
"Meanwhile, they're trying to connect me with LuAnn because I'm already pretty friendly with Jill but I knew LuAnn socially, so I invited LuAnn. Lo and behold, they set me up. They actually went to Jill's house and said, 'Well, do you know that Ramona's having a little party and she invited LuAnn?' "
She understands why the drama escalated.
"Of course everyone's insecure. It's like grade school. whines 'Why am I not invited to the birthday party?' Of course, obviously, if I was going to invite LuAnn, I would've invited Jill. They set me up. But it was good for the show. It was fun, right?"
Funny, Countess LuAnn de Lesseps and Jill recount the story differently.
"I didn't know that she had not invited Jill until Jill called me, right?" LuAnn says. "She said, 'Oh, where are you going?' "
"Because I wanted to come over," Jill interjects.
LuAnn continues, "She called Ramona herself. She didn't even bother with me. She just went straight to the source, which I love about Jill. I didn't know that she wasn't invited. I thought she was, so I just expected her to be there, so I was surprised when I got there that she wasn't there. Turns out, she said to Jill — she told me she was out of town. It was this whole thing."
Article continues below advertisement
Jill adds, "Big liar. Big fat liar. She lies!"
Nowadays the scandal has blown over.
"I can't hold a grudge," Jill says. "Life's too short."
"We're very friendly," Ramona says. "We don't see each other all the time but we're social friends. You have your core five friends and she's more of my peripheral friend — she's a social friend. If I had a party with 15 people, she'd be there. If I'm having five girls, no. But if I'm having 15 or 20, definitely."
Ramona considers Bethenny Frankel a true friend but genuinely likes all of her co-stars. "We're very fortunate that we all get along," she says.
Still, Jill insists the drama is true to life.
"Real life, you can't trump it," Jill says. "You couldn't write a script like this. This is real — not made up."
Hopefully they can get on the same page.