NEWS
Rebecca Black Says New Single "My Moment" Is "The Perfect Song to Tell Off the Haters"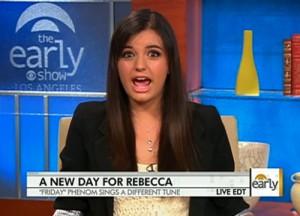 After her infamous first single "Friday" went viral and made her an overnight Internet sensation, Rebecca Black knew her next single had to exceed expectations and send a message to all those who didn't believe in her as an artist.
" 'Friday' was such a hit. And so, to get something, you have to find the perfect song that kind of tells off the haters a little bit, but still shows that you're a serious artist," Rebecca said this morning in an interview on CBS' The Early Show of finding the perfect new song.
Article continues below advertisement
OK! VIDEO: WATCH REBECCA BLACK'S "MY MOMENT" MUSIC VIDEO
"Friday" was an overnight sensation, with currently 167 million hits on YouTube, and catchy lyrics that invaded the public's heads, whether they liked it or not.
So how does Rebecca deal with all the negative criticism? Her caring mom.
"She's always supported me, ever since I was a little 2-year-old in dance recitals," Rebecca shared. "So, I mean, it's hard, because you have to deal with bullying, being a teenager, anyways. And now, to have the whole world — I mean, that's not normal. So, I mean, luckily, the haters don't have to watch 'Friday' or 'My Moment.' So they can turn it off if they want. They don't have to hate. But it doesn't bother me anymore."
Rebecca also urged her fans to take a stance against bullying, and rise above it.
"It's okay to be sad about (bullying) for a little bit, but don't let it change you permanently."
As far as the most exciting aspect of her launch to superstardom, it's hard for Rebecca to single out one moment.
"Oh, gosh, that's a hard question," she said. "All of it has been so amazing. I mean, from working with Katy Perry to doing 'Funny or Die' to hosting a party for MTV, it's all just insane."
Watch Rebecca's interview on The Early Show HERE, and catch her new single "My Moment" below!