NEWS
Red Carpet Confidential: Ashley Tisdale's Body Talk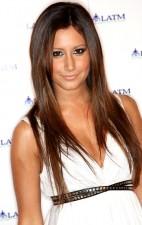 Ashley Tisdale is everywhere! With her sophomore album, Guilty Pleasure, in stores now, and comedy Aliens In The Attic out Friday, the High School Musical ingénue, 24, who is dating music video director Scott Speer, 27, has a lot to balance. Despite her busy schedule, the Tiz always makes time to slip in a workout … even if she's on the road!
When she's traveling, Ashley just pops in her Piloxing DVD and gets her fitness in fashion.
Article continues below advertisement
"It's Pilates and boxing put together," she tells me. "I always make time for it, because not only is it healthy for you, but it also relieves my stress. I'm so busy doing stuff and I get stressed a lot that working out takes me away from that."
When she's at home, Ashley adheres to her cardio routine with her personal trainer – and sometimes BFF Vanessa Hudgens joins her.
She says, "Vanessa and I always have so much fun working out together. It's definitely fun to hang out with your girlfriends, and to go workout. Especially when it's an early-morning class!"
What's her routine?
"I usually do 30-40 minutes on elliptical, and then the DVD Piloxing for an hour." Her soundtrack? "I love Britney Spears music, Lady Gaga, Pink, Katy Perry," she admits.
What's her fitness goal? "I workout to build a little muscle on me because I've always been very thin."
And the biggest change she notices? "I'll always have my legs because I got them from my mom. It's in the genes. I have really long, thin legs, and I'm more toned when I work out."
Article continues below advertisement
For Ashley, shaping up changes her dietary desires.
"You want to eat more protein, and limit the carbs," she says.
Never fear – Ashley never says "never." While Kashi bars are her go-to healthy snack, French fries earn their place as her favorite junk food.
"Sunday's my day off, where I eat whatever I want," Ash says. "I don't not let myself have something. I do love French fries, and I love bread, too. I'm a big fan of bread. I just have to take that out of my diet a little bit. But I don't seriously watch anything, especially when I'm on tour. I have McDonald's, I have all that stuff because you're always running around and you're always on-the-go, so you have to have food that's fast."
She says, "When I'm at home, I like to cook. Breakfast is my favorite meal. I have a big breakfast. I love omelets in the morning. I love turkey bacon. I eat a lot during the day, no matter what."
Ashley Tisdale's sophomore album, Guilty Pleasure, is in stores now, and comedy Aliens In The Attic hits theaters Friday.
Here are Ashley and I during her Planet Hollywood party held in NYC in 2007. Get this – Miley Cyrus showed up. Fun times!