NEWS
Red Carpet Confidential: Ben Stiller 'Energized' By Parenthood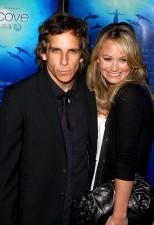 It takes a lot for Ben Stiller and wife Christine Taylor to leave their kids for an evening. While Christine admits she keeps her watch set to L.A. time "so I know where they're at at every moment," Ben says "every moment is a joy" with Ella, 7, and Quinlin, 4.
"Becoming a parent just changes your life," Ben, 43, tells me during the special screening of dolphin documentary The Cove, which he hosts in NYC. "Having young kids is really like the most energizing thing you can do. laughs It definitely keeps you on your toes, and engaged in life. You've gotta be in shape. It keeps you in shape because you want to keep up with your kids."
Article continues below advertisement
Even though Ben rakes in millions per movie, he insists his kids aren't swayed by the Hollywood power their dad commands – despite playdates with TomKat's little one, Suri Cruise, 3, with whom Christine tells me "they play dolls and have snacks and take a nap."
Ben says, "They just do their own thing. They're great. I think they really have a healthy attitude. They're very unimpressed with anything that has to do with show business, as kids that age should be. We just try to be good parents."
Setting a good example is one way Ben and Christine influence their children.
"After I saw this movie, I wanted to literally get up out of my seat and go to Japan and become an activist," he says. "I didn't, because we had a rental in Nantucket that lasted for the end of the month. But I did offer to do whatever else I could, and so I'm here."
It's not all perfect, though. Due to dad's life experience, we're guessing Ella and Quinlin don't do nicknames.
"As a kid, they'd call me Benji, and I didn't like it," he remembers.