NEWS
Red Carpet Confidential: Kellie Pickler Sheds 40 Lbs. On DIY Diet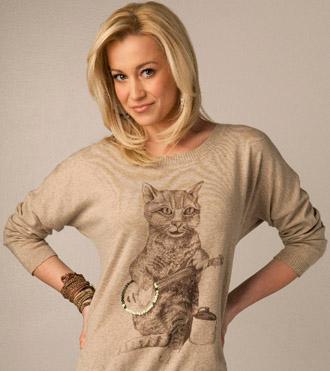 Forget Weight Watchers and Jenny Craig — Kellie Pickler researched herself slim!
Although stars like Jennifer Hudson, Mariah Carey and Valerie Bertinelli shill for various diet lines, the American Idol darling, 25, took matters into her own hands when she dropped the 40 lbs. she gained on tour after eating like her pregnant road buddy Alli Henson.
"She gained about 35-40 lbs., and I gained about 35-40 lbs.," the country crooner, whose new album 100 Proof is out now, tells me while promoting the "Kitty Crooner" sweater she created in partnership with designer Geren Ford and Fresh Step litter to benefit ASPCA.
Article continues below advertisement
OK! NEWS: KELLIE PICKLER CUDDLES WITH KITTENS AT ADOPTION CENTER IN NYC
She adds that her deceptive jeans led to her not realizing her weight gain "because of the stretchy material."
In the OK! and Reality Weekly issues out now,  the married star opens up about her 40 lb. weight loss. This is what you won't find in the magazines!
Fed up with feeling too embarrassed to wear a swimsuit when her eager pals came over to take a dip in her pool, Kellie set out on a year-and-a-half mission become the petite powerhouse we knew when she hit the scene in 2006. 
"That's the way you want to do it," she says.
Her first step was reading the books Skinny Bitch, Eating Animals and Fast Food Nation and watching various documentaries.
She put their philosophies into practice, and made her weight loss happen without even using a trainer!  
One thing she had to curb was her sugary indulgences.
"It's about training your mind. Even though soft drinks are bad for us, we can be p***** until we get one, and then our whole day changes. It's like a drug, and you have to train your mind. Just because Diet Coke is Diet Coke, it doesn't mean that it's healthy. You can have a Diet Coke every now and then, but you can't drink it every day. Soft drinks — bad, bad! Don't drink soft drinks — horrible!"
Article continues below advertisement
She has had to keep her desire for Krispy Kreme doughnuts in check.
"I have one every now and then, but only when the 'hot' sign is on," she says.  "Don't do it unless it's worth it. If you're going to do it, make it good."
OK! NEWS: AMERICAN IDOL PREVIEW:  WHO WILL JOIN THE BOYS ON THE LIVE SHOWS?
And, she replaced her love for Red Bull with a vitamin shot drink called Vemma.
"It has all the vitamins you would need to eat that day," she says. "They have an energy drink that's all natural."
Article continues below advertisement
Kellie and hubby Kyle Jacobs hiked to the top of the Grand Pitons in St. Lucia during their one-year anniversary trip last month. Even though it took four hours and was "hell going up that mountain," it was well worth it.
"Going down that mountain, for us not to take advantage of this, we were like 'we would be missing out on a blessing, and we are so selfish and we take for granted that we have the ability to even walk,'" she says. "There are people that are confined to wheelchairs or to beds that will never, ever have the opportunity to walk down the street and check the mailbox, or walk down the driveway and check the mailbox. If you have two legs and are mobile and able to do it, then take advantage of it now."
Her lesson?
"Eighty percent of my looks is the way I eat," she says.
Nowadays, Kellie weighs herself regularly and chooses only  "regular, fitted jeans that don't give."
"I can't wait for the summer," she tells me. "I'm not just gonna sit there and burn up because I don't want to take my shirt off when I'm in my bathing suit."
Slimming down doesn't happen overnight, and she cautions others not to be too hard on themselves.
Article continues below advertisement
"If you slip up and cave in one night, don't drop it. Just go 'alright.' It's like Alcoholics Anonymous, you have to say 'I may have had a drink, but I'm going to stop.' You keep going. It takes work to be healthy."
Pick up the OK! on newsstands now for Kellie's Diet Confessions.  The cover line is "Kourtney Kardashian: It's A Girl!"
And check out the Reality Weekly issues on newsstands now, headlined "J.Lo:  A Baby At 42!," to find out exactly what Kellie eats to stay slim, how her grandfather influenced her and how she makes her DIY fitness routine more effective.