NEWS
Red Carpet Confidential: Lil' Kim Cares For Ailing, Estranged Dad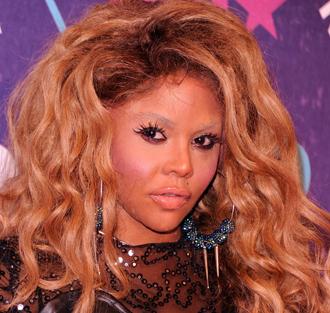 Lil' Kim has a big heart.
When her estranged dad Linwood Jones started showing early signs of Alzheimer's Disease, the rapper, 37, opened up her home and took him in to care for him.
OK! GALLERY: MILEY CYRUS, TAYLOR SWIFT, CARRIE UNDERWOOD & MORE AT THE 2012 BILLBOARD MUSIC AWARDS!
"We have to feed him, because he can't make his own food," she tells me Friday during her Return of the Queen tour launch at Paradise Theater in Bronx, N.Y. "He can't really pour juice. He can get dressed, but we have to help him sometimes. Basically we have to help him do almost everything. He can walk around and stuff like that. And again, it's early stages."
Article continues below advertisement
Sometimes it gets scary.
"He remembers to do some things, but sometimes he forgets some things. Like one time, he forgot to turn off the stove, and the coffee pot caught on fire. We had to run and put it out. It was really crazy."
OK! NEWS: REESE WITHERSPOON SUES HER FATHER FOR BIGAMY
Why did she step in if he wasn't there for her throughout her life?
"Well, I am a child of God," she says. "I believe in God, and I also believe in the quote 'honor thy mother and thy father.' No matter what, I'm always going to be there for my family."
MORE ON:
Red Carpet Confidential
Finding out his health is in decline has been difficult.
"Here's the thing – we feel and know that he has an early case of Alzheimer's," she says. "The doctors won't really diagnose him with it, but we know that he does. They say that it seems to be an early case of it - this is what they're saying. But he has this shaking-jitter condition that is almost the same thing as - don't get this wrong, because then people will be like 'oh, her dad has M.S.' – no, he almost has the same symptoms as a person who has Multiple Sclerosis where they shake – they shake really bad. Yes. So it's those type of symptoms. It stems from the situation."
Catch Lil' Kim on her Return of the Queen tour.