NEWS
Red Carpet Confidential: Ronnie Ortiz-Magro, Sammi Giancola Get Into Club Drama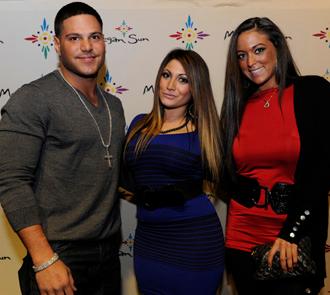 Jersey Shore exes Ronnie Ortiz-Magro and Sammi "Sweetheart" Giancola show that they're anything but friendly Saturday at their Ultra 88 appearance during Mohegan Sun's 15th Anniversary Weekend in Uncasville, Conn.
When Sammi arrives late because it takes her longer to get ready, Ronnie starts to get testy. Ten minutes after she gets to the High Rollers Suite at 12:20 a.m., Ronnie walks through the club. She tries to make eye contact, but he isn't interested. She rolls her eyes and returns to having fun, dancing happily to Pitbull's "Give Me Everything" with co-star Deena Cortese and Cake Boss star Buddy Valastro.
Article continues below advertisement
Meanwhile, he says "I can't do this, l've gotta get out of here," and heads over to the Moroccan Suite across the room.
After being coaxed into staying with a glass of champagne, he quietly enjoys the evening with a guy friend and even refuses to dance when asked by the three women nearby.
An insider says, "It seemed like she didn't care, but you could tell he did."
Without saying a word to each other, he exits at 1:30 a.m., and she departs with Deena and friends at 1:45 a.m.
MORE ON:
Ronnie Ortiz-Magro
Hours earlier, the tables are turned. While Sammi refuses to discuss Ronnie, Ronnie (rocking a Fisher-Price Little People-style haircut) opens up about their relationship's past and future.
"I love her and I still care about her," he tells me. "She's someone special in my life, but right now I just want to focus on my career, and we're both so busy that it's not fair to either of us to be in a relationship where you're only going to see the person once a week. It's not healthy."
Hmm, what would it take for the couple to reunite?
"I think when things slow down," he says. "We really have a great connection between us, and when things slow down and I get my feet established and I realize what I'm going to do with the rest of my life, that's when I'll be ready to settle down."
Ronnie and Sammi have broken up and reunited countless times since Jersey Shore began in 2009.
In August, co-star Vinny Guadagnino told me, "With them, it depends on what time it is to know whether they're with each other or not."