NEWS
Red Carpet Confidential: Rose McGowan Pines For Prince Harry, Jolly Ranchers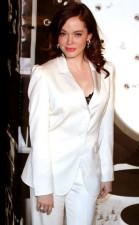 Rose McGowan isn't one of those waist watchers who shuns sugar.
"I eat Jolly Ranchers," the actress, 35, tells me of her diet. "A lot of them. It works out very well for me. I once thought I shouldn't eat sugar, but then I realize I could eat it and have whatever I wanted."
She gets in shape through flight training with trainer Inez Cabellero.
"I do a lot of spinning, kicks, backflips, front flips," she says.
Article continues below advertisement
Her inspiration?
"Liz Taylor," she says. "She's classic. She set the standard. She's beyond amazing. And what an actress."
It's key that Rose be body-conscious because she's aiming for younger men. Cougar alert!
Although the former Charmed actress, who was once engaged to Marilyn Manson, admits to being coupled, she clams up when asked to name her true love. But she's happy to mention her crushes.
"Prince Harry's hot. And I don't even like redheads. I don't like bad boys per se. He's just got that something. The 'It' factor. But if I was going to go between Rob Pattinson and Zac Efron, I'd go Zac Efron. Waddupa!"
One thing the Welsh royal, 24, Twilight star, 23, and High School Musical heartthob, 21, won't be able to convince her to do is eat Marmite, which was introduced to her by an Aussie pal.
"It's disgusting. It's foul. I actually tried it because I thought it was something that was sweet. It was a nasty surprise."
The boys should appreciate her ability to fix any accidental spillages.
"I got pink lipstick all over my satin lapel, so I had to take my lovely earring and make it a broach," she says. "My friend's like 'don't tell anyone!' immediately. I'm like, 'what do I care?'"