NEWS
Renee Zellweger is Living Proof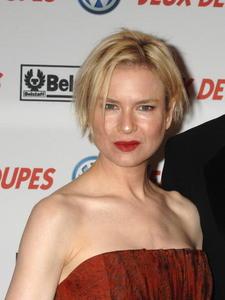 Renee Zellweger has joined the fight against breast cancer.
The Oscar winner is slated to produce an upcoming Lifetime Original Movie about the development of the groundbreaking breast cancer drug Herceptin 2, the network announced Friday.
Living Proof will star crooner-turned-actor Harry Connick Jr. as Dr. Denny Slamon, a UCLA doctor who developed the aforementioned drug and was a force in the early days of breast cancer drug-testing.
Article continues below advertisement
"This is truly a passion project for all of us at Lifetime," the network said in a statement. "Dr. Slamon is an unsung hero in the fight against breast cancer and no one is better suited to play him than Harry Connick Jr., who himself is committed to helping others. We are also thrilled to be collaborating with Craig Zadan, Neil Meron, Renee Zellweger and Sony in this thought-provoking film."
This project will be a reunion of sorts for Renee. Living Proof will reteam the Oscar winner with her Chicago producers, Neil and Craig, and with Harry, her co-star in the forthcoming Chilled in Miami.
Living Proof is set to hit the boob tube in October for National Breast Cancer Awareness Month and will serve as the "centerpiece Lifetimes 14th annual multi-platform Stop Breast Cancer for Life public service and advocacy campaign."