NEWS
Rewinding Pink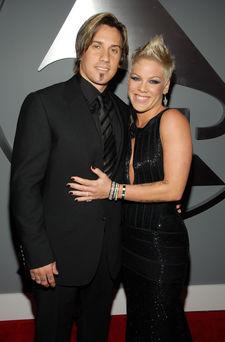 Pink is back on her own now that she announced her split from motocross racer hubby Carey Hart.
I spoke to the Who Knew singer, 28, less than a month after she tied the knot in 2006.
How did you know Carey was the one?
I always joke with him and say I tried to kick him out of my life eight times and he never went anywhere so I asked him to marry me. He's very consistent and very, very good to me.
What was your wedding like?
Article continues below advertisement
It was gor-geous! It was so much fun, everyone was sort of well-behaved for our group until my dad threw me in the ocean. It was beautiful, Carey's vows made every single person there cry and I was just really, really happy. It was just awesome.
How was your honeymoon?
We went snowboarding in Mammoth Lakes, California, which is where we got engaged. We took the doggies -- which was fun except that they had diarrhea and we were cleaning up dog poop for the first three days of my honeymoon, which was wonderful. We have two bulldogs and two rescued junkyard mutts. The bulldogs are Foxy and Elvis and the rescue babies are Bailey and Nanny. We went snowboarding, then came back, dropped the dogs off and went to Fiji. We read to each other, played Scrabble and drank cava. It was awesome.
Did you ever consider changing your name to Pink Hart?
Everyone thinks I should, but no.
How has your relationship changed now that you're married?
It's really not. We've been together for four-and-a-half years. I met him right at the beginning of Missundazstood, so we've been on tour our entire relationship. I haven't seen him since the honeymoon. I've been premiering my new video and single Stupid Girls, and out there laughing a lot and defending and explaining that there are intelligent life forms on this planet. (Laughs)
Article continues below advertisement
Anything that surprises you about married life compared to your expectations?
Not really. It's only been three weeks and we haven't spent a lot of time together, but we're so down and we're so cool with each other. It's just easy for us. We're really fond of each other.
Are there children in your future?
I hope so, but no time soon. (Laughs) I'm not ready.
What color will their names be?
No funny names. Carey is very adamant about that because he feels like he has a girls' name and he got up a lot because of it. All my weird names he's already thrown out. (Laughs)