NEWS
Rihanna & Josh Hartnett Play Kissy-Face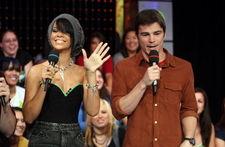 For being only 19, soulful singer Rihanna has sure been linked to a lot of A-list hunks, from her mentor, Jay-Z,to Justin Timberlake and, most recently, to actor Shia LeBeouf.
Well, it's time to add another dude to that list, as OK! can report that the "Umbrella" songstress was recently involved in a heavy-duty lip-lock with scruffy stud Josh Hartnett. The smooching went down earlier this week at NYC hotspot Pink Elephant, where the leggy beauty (Rihanna, not Josh) went to party it up after a concert. A short while later, Josh arrived and things got hot and heavy.
Article continues below advertisement
"He walked in and made a beeline straight to her table," one witness tells OK!. "Right away, they were dancing, drinking Dom Perignon and making out right at the table."
According to the witness, the PDA continued on for another two hours before the pair headed out the door arm in arm.