NEWS
Rihanna's "Man Down" Video Defended by Gabrielle Union: "I Tried to Shoot My Rapist"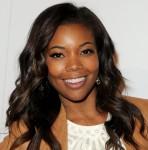 Rihanna's new music video for "Man Down" has created a lot of controversy for showing the singer shooting her rapist. But actress Gabrielle Union is defending the video and saying she tried to shoot her rapist in real life.
OK! NEWS: RIHANNA DEFENDS "MAN DOWN" VIDEO — "I'M A ROCK STAR WITH NO KIDS"
"Saw 'Man Down' by @rihanna. Every victim/survivor of rape is unique, including how they THINK they'd like justice 2 be handed out," Gabrielle Tweeted.
Article continues below advertisement
And then Gabrielle got very personal. As an advocate for the government's support of rape crisis centers, the actress is open about being raped when she was 19 years old, E! News reports.
But now she's shared some new information of her assault.
"Stranger who robbed the store I worked at," she explained of her rapist. "He put his gun dwn durin the rape & asked me 2 hand it 2 him."
"During my rape I tried 2 shoot my rapist, bt I missed," Gabrielle wrote. "Over the yrs I realized tht killin my rapist would've added insult 2 injury. The DESIRE 2 kill someone whose abused/raped u is understandable, bt unless its self defense n the moment 2 save ur life, just ADDS 2 ur troubles #mandown."
OK! VIDEO: WATCH RIHANNA SHOOT A "MAN DOWN" IN NEW MUSIC VIDEO
So, Gabrielle views Rihanna's video as a way to bring awareness and support to survivors of rape.
"#Mandown video did a GREAT job of getting the ENTIRE world TALKING abt RAPE," the actress Tweeted. "I hope tht it leads 2 HEALING & PREVENTS RAPE."
Do you agree with Gabrielle's thoughts on Rihanna's video?