NEWS
Robert's Lips Make a Mint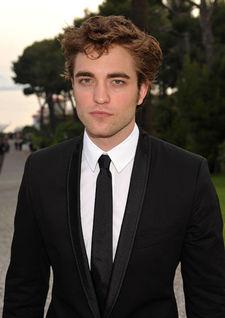 A kiss on the hand can be quite continental, but is a kiss on the cheek from Robert Pattinson worth thousands?
Apparently two proud papas thought so during the amfAR benefit in Cannes last night, as they shelled out some pretty serious dough to earn their daughters the right to have those highly-prized lips grace their faces.
E! News reports that Harvey Weinstein joked onstage about his daughters going gaga for R-Patts and changing their names to Pattinson after seeing him in Twilight.
Article continues below advertisement
"Harvey then suggested auctioning off an opportunity for someone's daughter to meet and get a kiss on the cheek from Pattinson," a fellow partygoer tells E!. "There were two bidders who paid 20,000 euros each for their daughters to have that kiss."
Do the math, vampire-lovers... that's $55,000 total!
"Harvey put him on the spot, in a playful way," the source says. "And Rob agreed to it in his usual brooding, modest way."
PICS FROM THE AMFAR EVENT:
<a href="http://www.okmagazine.com/pixandvids/gallery/14434/1" target="_blank"><img src="https://d-images.okmagazine.com/img/photos/large/29501.gif" height="100"/></a> <a href="http://www.okmagazine.com/pixandvids/gallery/14434/2" target="_blank"><img src="https://d-images.okmagazine.com/img/photos/large/29500.gif" height="100"="74"/></a><a href="http://www.okmagazine.com/pixandvids/gallery/14434/3" target="_blank"><img src="https://d-images.okmagazine.com/img/photos/large/29499.gif"height="100"/></a> <a href="http://www.okmagazine.com/pixandvids/gallery/14434/4" target="_blank"><img src="https://d-images.okmagazine.com/img/photos/large/29498.gif" height="100" /></a></a> <a href="http://www.okmagazine.com/pixandvids/gallery/14434/5" target="_blank"><img src="https://d-images.okmagazine.com/img/photos/large/29497.gif"height="100" /></a>