NEWS
Sandra Bullock Admits Baby Louis is a Little Ladies Man: "He's a Flirt!"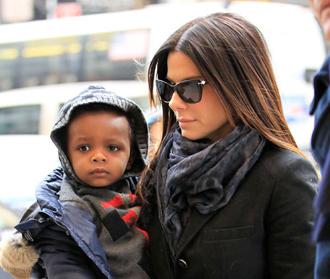 Sandra Bullock might not have a romantic partner in her life nowadays, but she does have a ladies man! The Extremely Loud & Incredibly Close actress confessed that her almost two-year-old son Louis is a big time flirt, and she doesn't know how to control it!
OK! GALLERY: SANDRA BULLOCK AND LOUIS GO CHRISTMAS SHOPPING IN NYC
Sandra says Louis "is probably the best baby in the world," but that he "appreciates the fairer sex."
Article continues below advertisement
"He's got a look where he just cuts the eyes at the ladies, and I'm like, 'I'm so sorry! I don't know what's happening,' " Sandra told Jay Leno on Monday night's episode of The Tonight Show. "He doesn't flirt with me like that, and someone told me that's probably a good thing," she joked.
As for whether or not Sandra will be stricter with Louis as he gets older, she says she'll most likely take after her mom, the late German opera singer Helga Meyer, who made sure Sandy stayed out of trouble as a teenager.
MORE ON:
Louis Bardo Bullock