NEWS
Sarah Palin Calls Arnold Schwarzenegger "Disgusting" & Feels "So Bad" for His Children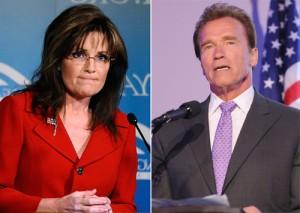 They may be on the same side of the political spectrum, but Arnold Schwarzenegger isn't getting any compassion from fellow Republican Sarah Palin. The former governor of Alaska slammed the former governor of California yesterday.
"I feel so bad for his children," Sarah said, via CNN, during an interview with Fox Business. "It must be quite embarrassing for them, and, you know, it's an irresponsible and really a pretty disgusting thing that he did, pretty much denying that he had a child for 10 years."
Article continues below advertisement
The potential 2012 presidential candidate added, "That's how I look at it. It speaks to his character. It's sad."
Arnold revealed earlier this week he fathered a child with a household employee while married to Maria Shriver.
The couple announced their separation last week after 25 years together. Maria has reportedly hired a big time lawyer to help her with divorce proceedings.