NEWS
Scandal Alert: Rebecca Gayheart & Eric Dane in Threesome Sex Tape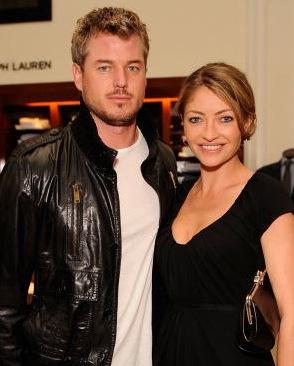 Hear that sound? It's the clattering of thousands of jaws falling to the floor as Grey's Anatomy fans hear the news that Dr. McSteamy, aka actor Eric Dane, and his wife, "Noxzema Girl" Rebecca Gayheart, are in a threesome sex tape currently making the rounds on the Internet.
Defamer broke the news with an edited version of the originally 12-minute-long tape (video in link NSFW!), in which the married couple discuss their alter-ego names with former Miss Teen USA and alleged Hollywood madam, Kari Ann Peniche. Rebecca also claims she has to lie down because she's "so high."
Article continues below advertisement
The tape has surfaced as part of officials' investigation into Kari Ann's alleged sex-for-hire business. She was also recently treated for sex addiction on Dr. Drew's Celebrity Rehab but was kicked off for entertaining nefarious characters and stealing from her rooommate, Mindy McCready at the treatment center.