NEWS
Scotty McCreery Suffers Microphone Malfunction & Lyric Mistake at World Series?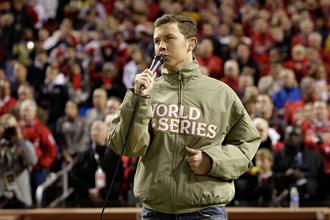 Scotty McCreery suffered a slight microphone malfunction and possibly lyric mix up at the World Series on Wednesday night.
The American Idol winner started singing the "Star Spangled Banner" on live TV but no sound was coming out, Billboard reports.
Poor Scotty couldn't tell the difference, but the video crew can be heard scrambling to find Scotty another mic before he gets too far into the song.
But by the time he sang "By the dawn's early light," he was given a new one and started back from the beginning.
Article continues below advertisement
In the deep voice that won him the American Idol title, Scotty finished up the song without any more microphone problems.
He did, however, seem to have a lyric mistake towards the end.
Instead of singing, "O say does that star-spangled" it sure sounded like he said, "No Jose does that."
Do you think that's what Scotty sang or was his accent to blame?
Watch the video over at Billboard.com!