NEWS
Selena Gomez Beats Out Boyfriend Justin Bieber For No. 1 Spot on the Billboard Social 50 List!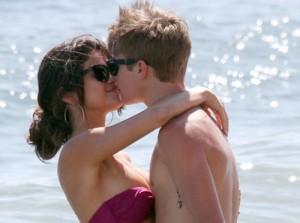 Selena Gomez and Justin Bieber are certainly a powerhouse couple, but it looks like Selena's popularity may be rivaling her 17-year-old teen dream boyfriend's status! Selena usurped the No. 1 spot on Billboard's Social 50 list, bumping The Biebs down to No. 2!
"The Social 50 ranks the most active artists on the world's leading social networking sites — YouTube, Vevo, Facebook, Twitter, MySpace and iLike — using a formula blending weekly additions of friends/fans/followers along with weekly artist page views and weekly song plays," according to Billboard.
Article continues below advertisement
So how did Selena overthrow JB?
She has been pretty busy not only promoting her new album When the Sun Goes Down, but the 18-year-old singer/actress also catapulted to the top with the the July 1 premiere of her rom-com Monte Carlo.
Her latest single off the new album "Love You Like a Love Song" has already received 10 million views on Vevo, so it's been quite a ride for Selena.
And we know Justin is supporting her through it all.
JB holds down the No. 2 spot for this week's list, which also includes Lady Gaga at No. 4 , Shakira at No. 5, Katy Perry at No. 6, Rihanna at No. 7, Eminem at No. 8 and Beyoncé at No. 9.