NEWS
Sherri Shepherd Obsessed With Wedding Slimdown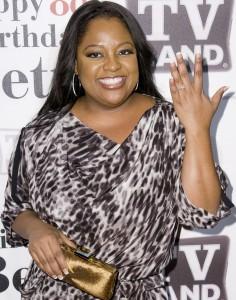 Sherri Shepherd wants to look her best when she marries writer fiancé Lamar Sally.
"I'm going through the whole thing where they want to know the size for the wedding gown, and I keep wanting to say I'm a size four because I know that that's what I want to get to," she says this week during Betty White's 89th birthday at Le Cirque in NYC. "But I've gotta give them the real double-digit size, which sucks."
Article continues below advertisement
For now, The View star admits she is looking at designers who can fit her body.
"My trainer at The Reebok Club has me doing all kinds of squats, lunges and lifting weights because I've got this fantasy of strapless," she says. "I don't know what's going to hold these boulders up, but strapless is the way I want to go."
She continues, "She works me out for an hour-and-a-half three times a day, and I'm about to start taking these Zumba classes. I think I want to do pole-dancing classes. I've gotta do that for my husband."
What celebs will be invited?
"I don't know. That's the thing. They're calling going 'I want to come.' I'm like 'you better eat all the food. I don't want any freaking skinny celebrities.'"
Skinny stars are not outlawed from her pre-wedding festivities, though.
"Barbara Walters is throwing me a bridal shower, and I asked if they'd get me a stripper," she yuks. "She gave me a look, so I'm not quite sure. I told her 'get somebody called Chocolate Thunder at the bridal shower.'"
Article continues below advertisement
Other wedding details she revealed: Her son Jeffrey, 6, will walk her down the aisle, she will write her own "funny" vows, the color will be deep purple and the first song will be "something by Maxwell – he's so sexy." And 200 people will be invited to the ceremony held in Chicago.
Oh, and her husband-to-be is the bridezilla.
"My husband is more of the bride than me. This is my second wedding, so he's more giddy than I am. I've gotta do a slash and burn on the guest list, which is not so good. He's working on it now."
Despite his diva tendencies, Sherri is quick to boast about her man.
"Girl, he's from Detroit," she says. "He's like a Ford truck. He's built to last. He fixes everything in the house."
Sherri is certain she has found "The One" in Lamar after her previous marriage ended in divorce last year.
"My girlfriend Niecy Nash introduced me to him," she tells me. "He's 6'6", and I usually go for short guys, but he loved my son, and when my son looked at me said 'I want to go with Sowa, not you Mommy, with Sowa.' He calls him Sowa. I knew this was The One for me. He loves my son; he loves me."
Indeed, little Jeffrey is happy with her pick.
"He loves him! As long as he buys more Wii games, my son is in love with Sowa."
What makes her most nervous about the big day?
"That I won't be able to say the vows the right way, and I don't want to cry and lose my lashes. I want to make sure I do it the right way. The last time I got married, I sounded like a cow that got shot in the a** because I was wailing. It's not cute."