NEWS
Shocker: Spencer & Heidi Not Really Married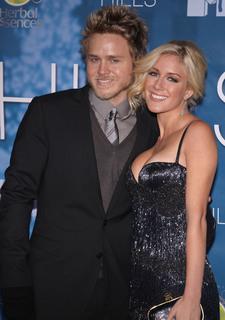 From the "do we still care about these two?" department — the (semi) surprising news that newlyweds Spencer Pratt and Heidi Montag aren't actually newlyweds after it was revealed on the finale of their reality show that the pair have yet to legalize their quickie Mexican wedding.
To go back to the beginning of the sordid tale, Spencer and Heidi first eloped on Nov. 19 in a ceremony in Mexico that meant nothing other than a photo opportunity and some headlines for the young couple.
Article continues below advertisement
When questions began to arise that Speidi's marriage was anything but, the trust-funders claimed that they had gone to a Beverly Hills courthouse to make things legit.
Shockingly, this was not true.
On Monday night's season finale of The Hills, Heidi's mom — in a show of common sense that's rare to most reality shows — told her sorta-son-law, "I know you manipulated and plotted this whole wedding. It's too fast, too much."
The pair got all the way to the point of actually saying their vows in front of Deputy Commissioner Donna Jones. In fact, Heidi managed to get all the way through hers before a suddenly cold-footed Spencer had a change of heart.
"I feel like we're doing something sneaky and shady," he told his tearful bride-to-be. "I just want to give you the wedding of your dreams that you have been talking about for three years."
And so, like a really dull soap opera, the Speidi saga continues. Will they ever get married for real? Will it really matter?