NEWS
Should Angelina Be Upset by Vanity Fair Snub?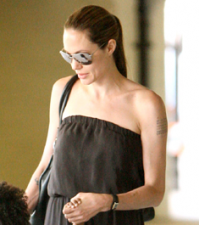 Vanity Fair released their annual International Best-Dressed List yesterday and, to the surprise of many, Brad Pitt was included but not his paramour Angelina Jolie.
However, looking at the names that make up the rest of the list, should the Oscar-winner be at all perturbed by being overlooked?
Of the 53 individuals selected by the magazine for inclusion on this year's list, only a handful are even close to what would be considered household names, and only eight of them are Hollywood stars. The overwhelming majority of VF's best-dressed are either moneyed aristocrats with vague job titles like "Art Consultant" and "Escapist" or big-ticket international finance types who have billions to spend on couture gowns and suits from the world's finest tailors.
Article continues below advertisement
And can you possibly take any list seriously that includes former Paris Hilton playboy Stavros Niarchos?
So, Angie, fret not that you weren't included with such wonderful and exclusive company as the Duchess of Alba and... Alicia Keys (no offense, but seriously?).
Just don't let Brad try to hold this over you when you're both looking at yourselves in the mirror in the morning.